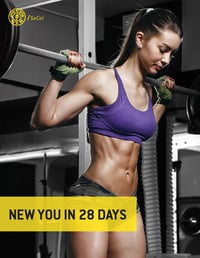 Making the decision that you are ready and willing to turn over a new leaf is one thing, but knowing how and where to start can be more tricky! The good news? Once you've decided you are ready to make a change, we're here to help!
Whether you are trying to get a jump on the New Year, planning to be your fittest for a special event, or just ready to make a change for your health and happiness, our FREE New You in 28 Day Guide will give you the exact steps to get you started. We even have a handy schedule to show you what to expect, week by week as you're working towards a New You!


With this free guide, in 28 Days you will:
Find time for yourself

Start a healthy fitness routine

Get tips on what to eat to keep you on track

Work out efficiently to maximize your time

Learn the secret to making it through your 28 Days and beyond

Feel healthy, happy and inspired to keep your new habits going
Download our eBook for easy display on your smartphone, or print it out and take it with you.

Can't download it right now? No problem. We'll send you an email so you can grab it on your own time.
*

All fields are required to take advantage of this great offer. Some restrictions may apply.